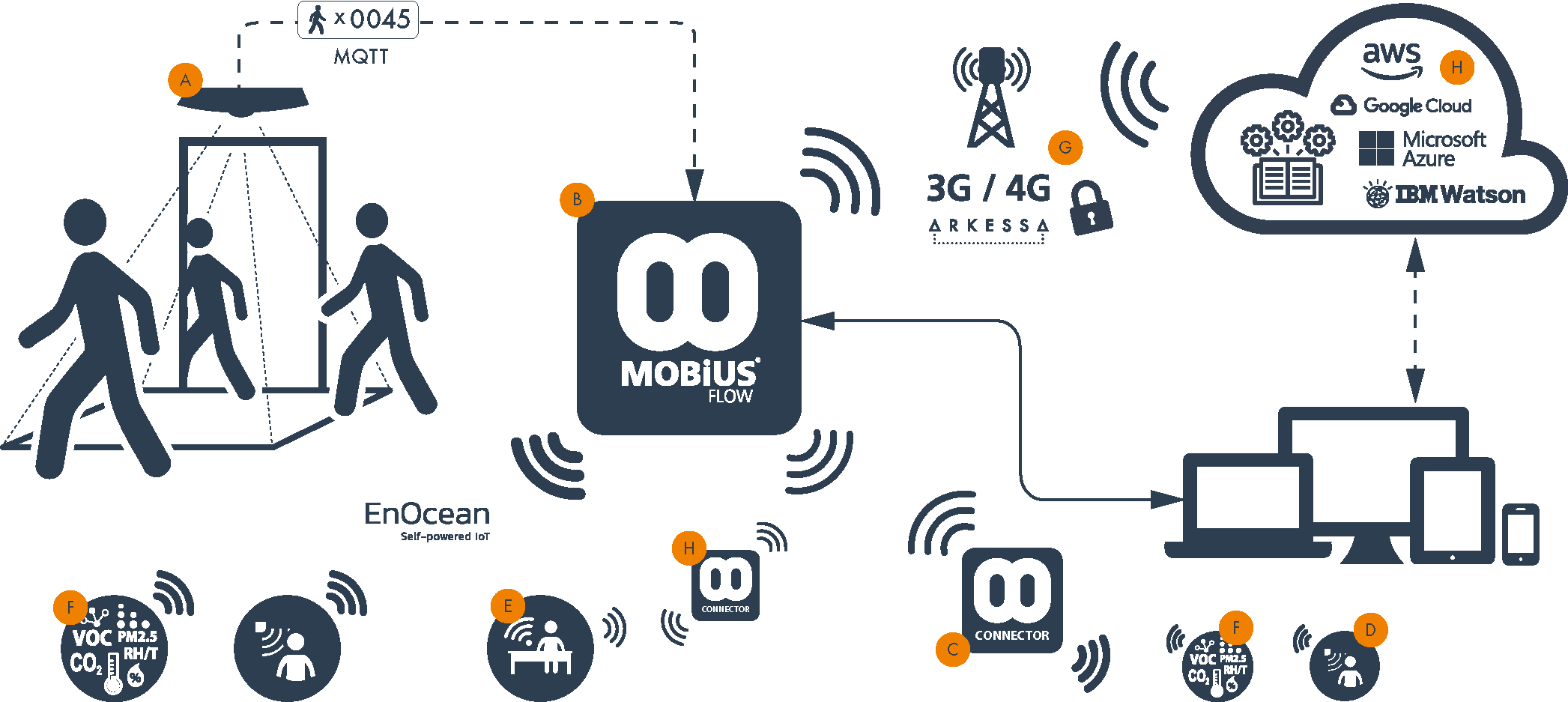 IoT Solutions:
A Typical Sensor Schematic using MobiusFlow
A. Optex People Counter
Part No. SEN021
A real-time, muti-directional people counter. Its high accuracy rate of over 97% enables retailers to manage their staff and product placement better and offices to have a more efficient building management based on occupancy level.
B. MobiusFlow Gateway
Part No. GW001
MobiusFlow enabled gateway allows connectivity and control of wired and wireless devices to be provisioned via a local or 3G / 4G managed mobile data service. The gateway has an onboard CPU and MobiusFlow configuration software. An EnOcean transceiver and ethernet connectivity allows the direct connection of either EnOcean sensors / actuators or any other controller via the ethernet port to local or cloud based solutions.
C. MobiusFlow EnOcean Connector
Part No. EXT002
Utilising the power of WiFi to extend the EnOcean range and capability of the MobiusFlow gateway.
D. EnOcean PIR Motion Sensor
Part No. PIR007
Ceiling Mounted Occupancy Sensor is wireless and self-powered making them one of the most cost effective ways to control energy-use in unoccupied rooms. The sensor harvests solar energy from indoor light and uses radio frequency technology to communicate wirelessly with other EnOcean enabled devices, setting back temperature and turning off lights and electrical loads when it detects that a space has been unoccupied for a set period of time.
E. Desk Occupancy Sensor
Part No. PIR008
The 868MHz occupancy sensor identifies the utilisation of a workplace position through movement and thermal measurement. In an office environment this sensor would be placed under the desk, at a team table, reception desk etc. Any location occupied by a person.
F. Air Quality Monitor
Part No. SEN022
MobiusFlow Wifi based sensor providing detailed and reliable data on key environmental parameters such as humidity, temperature, volatile organic compounds (VOCs), particulate matter (PM2.5) and CO2.
G. 3G / 4G Secure Data Connection
Arkessa enables Internet of Things (IoT) and Machine to Machine (M2M) connections anywhere in the world. Solutions to suit customer requirements.
H. Cloud Hosting Solution
Secure hosting solutions from Microsoft Azure, Amazon AWS, IBM Watson, Google Cloud Platform, or as specified by the customer.
I. MobiusFlow WPO Connectors
Part No. EXT001
Enables connectivity between the 868MHz PIR008 Occupancy Sensor and the MobiusFlow Gateway.

Smart Office
• Lighting Control
• BMS
• Office Occupancy
• Air Quality
• Energy Monitoring

Assisted Living
• Occupancy Monitoring
• Behaviour Analysis
• Carer Synchronisation

Environmental Monitoring
• Outdoor Air Quality
• Vibration Monitoring
• Noise Monitoring
• Agriculture Soil Quality

Smart Manufacturing Monitoring
• Condition Monitoring
• Data Collecting
• Anomaly Detection
• Predictive Maintenance

Energy Consumption, Employee Health, Environmental Impact, People Flow, Emergency Lighting and Testing,
Cost Savings and General Building Management.