Desk/Room Utilisation and Booking
Desk/Room Utilisation and Booking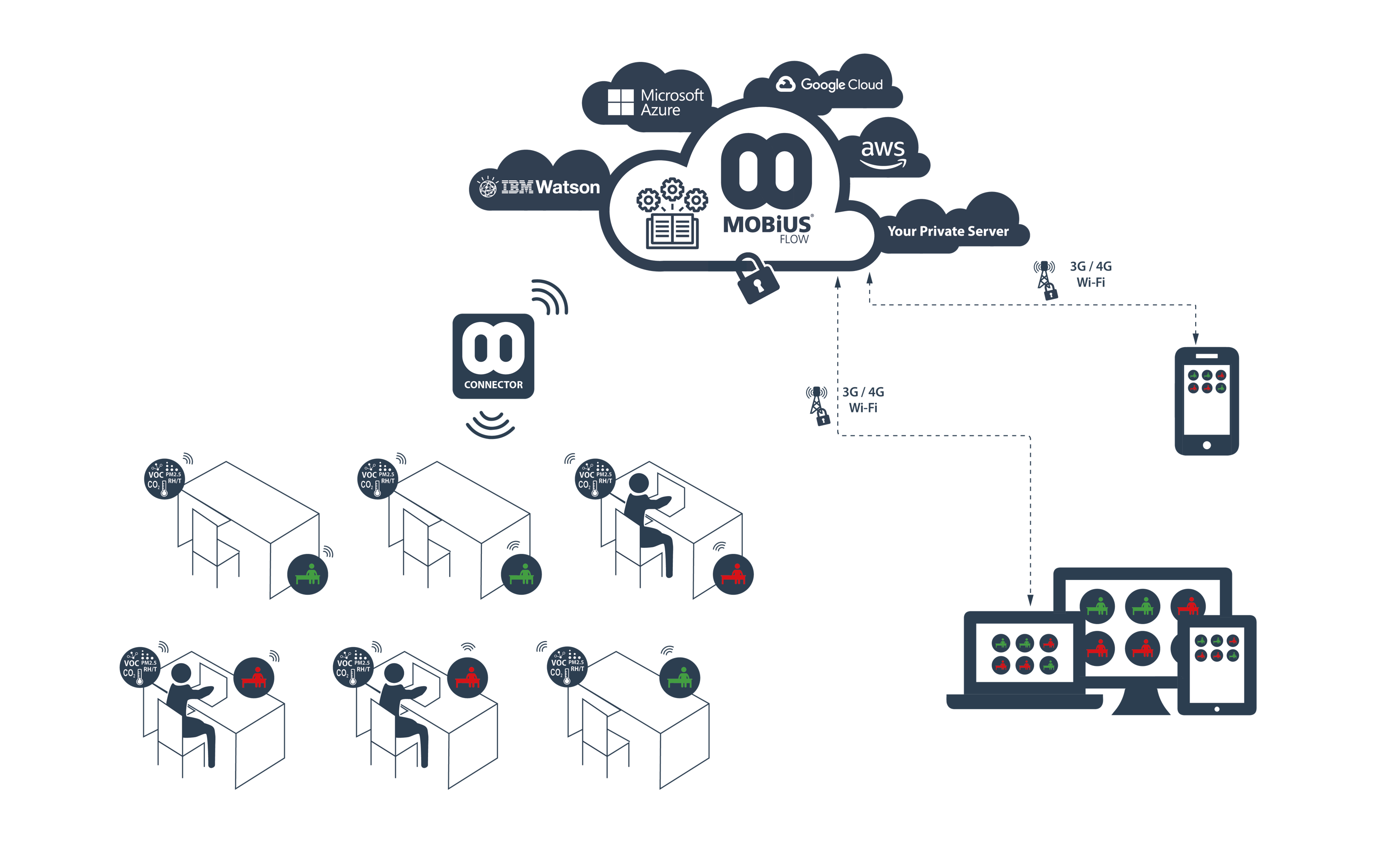 Smart office solution for employee use and for general office management focusing on occupancy and indoor air quality. Flexi-desk and meeting room utilisation and air quality monitoring, specifically CO2, Temperature and Humidity. The IAconnects solution can also be integrated with 3rd party office booking solutions such as our partner, iOFFICE.
Problem:

Employees need a quicker way of checking whether flexi-desks or meeting rooms were available, remotely booking desks and meeting rooms, to save time walking around to look for available spaces. Organisations need monitor the levels of CO2, Temperature and Humidity in meeting rooms and common areas to analyse productivity and potential increase of Covid-19 transmission rates.
Solution:
Install a smart office solution enabling employees to check individual and multiple desk and meeting room availability via our partner solution from iOFFICE.
Benefit:
You will be able to quickly view and book available desks or meeting rooms through the iOFFICE Digital Workplace application. The option to view the temperature, humidity, and CO2 levels in different areas of the office is also a useful tool for employees to have at their disposal. Working in an area with at a preferential temperature can help improve an individual's wellbeing and work rate, and also provides alerts if the CO2 levels become too high, and therefore creates an increased risk in the transmission of Covid-19.
The Solution Can Included:

- MobiusFlow IoT Edge Gateway
- EnOcean and WPO Connectors
- WPO Under Desk occupancy sensors to show which desks are available
- EnOcean Presence detection sensors for meeting rooms and communal areas
- Indoor Air Quality (Temperature, Humidity, CO2) sensors which will push alerts to the building and office managers informing them when levels are too high, and action needs to be taken.
- iOFFICE Digital Workforce Application
---